Happy Birthday, Mr. Roshan!
Posted On 6th September, 2012 @ 00:00 am by
This is a small attempt to honour Mr. Rakesh Roshan on his birthday. Here's wishing him another sixty two years of cinematic brilliance.
Here's a list of the top 5 Rakesh Roshan films, you must watch:
1. Khoon Bhari Maang (1988): An Australian mini-series called "Return of Eden" was very popular amongst the freshly established television audience; it was such a raging success that the producers were forced to televise it as a regular weekly series in 1986. The storyline could definitely be adapted into a Bollywood film; for which the idea first came to Rakesh Roshan. The result was Khoon Bhari Maang; a story of a rich widow who remarries unknowingly to a man greedy for her wealth. However, after escaping a near death experience, she returns to take her revenge.
2. Karan Arjun (1995):With a plethora of films being released every fortnight in our industry, it would be difficult to say that this film has lived the test of time, but it is still fondly remembered for the invalidity, of that kind of cinema, in the present scenario. In its time, it was a blockbuster; probably because of its religious overtones, and the political scenario itself being religiously driven, the film got the attention of the masses. Nevertheless, the infamous dialogue of Raakhee Gulzar as Durga Singh, "Mere Karan Arjun aayenge" cannot be forgotten, even after a hundred years. An interesting fact however is that Hrithik Roshan was the assistant director, to his father, for this film.
3. Kaho Na Pyaar Hai (2000): In this film Rakesh Roshan launched his son, Hrithik. The film was box office hit and won a total of eight filmfare awards. It got a mixed reception from the critics, but on one point their opinion was unanimous and that was Hrithik's screen presence throughout the entire film. Hrithik was the only actor to win the Filmfare award for best actor and best debut for the same film.
4. Koi…Mil Gaya (2003): This was the first film of the Krrish series that gave Bollywood lovers a new genre to experience, but not letting go of the few essential ingredients that are must haves like - love, revenge and Rekhaji. In this film, Rakesh Roshan had an appearance in the beginning; he plays the role of a scientist trying to communicate with aliens, but dies in an accident before he achieves his goal. His son played by Hrithik Roshan, mothered by Rekhaji, is born with a mental disorder that has made him incapable of competing with his peers. However, in true Bollywood style all change comes as soon as you want it to.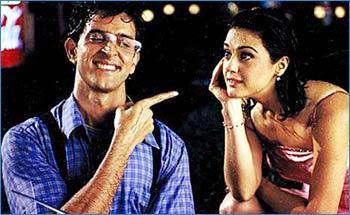 5. Krrish (2006): This film is a sequel to "Koi…Mil Gaya" where Rakesh Roshan attempts to give Indians their first superhero. In "Koi…Mil Gaya", Krishna gets his superhuman abilities from an alien; in "Krrish", Krrish gets his powers from his father Krishna. In both the films, the lead role is played by Hrithik Roshan; while he delivers brilliantly in both, there is the added incentive of seeing the work of one of the best effects team from Hollywood. This was the first film by Rakesh Roshan released on a worldwide basis.
Image Courtesy: rediff, wikipedia, midday, limeshare